The new AMAFCA District boundaries were established from 2020 census data and the New Mexico State Legislatures voting precinct redistricting. The below map highlights the (5) districts and lists their corresponding AMAFCA Director.
In 2020, the population within the AMAFCA jurisdiction increased by 3.24% for a total of 654,815 people. The greatest growth occurred in District 2.
To download new GIS Information, please visit our GIS Maps & Data page.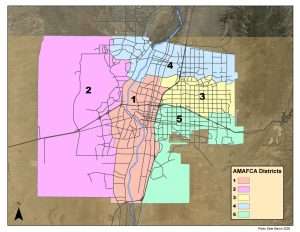 District 1: Elizabeth Newlin Taylor, Secretary – Treasurer
     Current term 2022 – 2027
Email:  etaylor@amafca.org
District 2: Orlando G. Martinez, Jr., Assistant Secretary – Treasurer
     Current term 2022 – 2027
Email: omartinez@amafca.org
District 3: Tim Eichenberg, Director
     Current term 2013 – 2025
Email: teichenberg@amafca.org
District 4: Ronald D. Brown, Vice Chair
     Current term 2013 – 2025
Email: rbrown@amafca.org
District 5: Bruce M. Thomson, Ph.D, P.E., Chair
     Current term 2017 – 2023
Email:  bthomson@amafca.org
[Updated: 1/26/2023]